Ok. My memory isn't the greatest. That's why I have to put little diagrams like this up on my site. Hopefully they help you out as well…
568A
This standard is used in the actual office cabling. Note that the pairs are in a different sequence than the 568B standard which is used in the patch cords.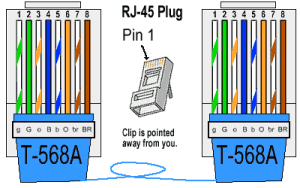 568B
This is the standard that is used on patch cables.
568A/B Roll-over
By using both standards, a roll-over cable may be created for special conditions.